From shipping to commodities trading, Maureen Poh, Director at Helmsman LLC Singapore, handles an array of contentious and advisory issues. Graduating with a Bachelor's in Political Science and working with Singapore's Ministry of Foreign Affairs fostered her passion for maritime. Drawn to the industry, she completed a law degree with the National University of Singapore (NUS) and is currently an advisor to the NUS Centre for Maritime Law.
1. How did you first encounter maritime law?
My route to becoming a maritime lawyer is slightly different from the usual. Law is my second career and I used to work in the civil service. During my time there, I came across aspects of the maritime industry that interested me, spurring me to consider a career in law. With the intention of becoming a maritime lawyer, I completed NUS' three-year law program designed for graduates from other disciplines.
2. What aspect of maritime law interests you?
I enjoy the technical aspects, intellectual rigour, and multi-jurisdictional nature of maritime law. As it is commercially driven, I can see how my advice helps companies. Being a senior maritime lawyer, clients do not approach you strictly for legal advice but also for commercial opinion. It is only through knowing the law well that you can apply it flexibly and provide clients with the appropriate help. This is what sets maritime law apart from the other practice areas.
3. Is what you learnt in law school similar to practice?
Law school equips you with an understanding of basic legal principles and the discipline to do research by seeking out the right sources. However, practice is quite different. The maritime law modules are helpful but not necessary because you learn a lot on the job.
4. What are some common misconceptions of maritime law?
When I first entered, I kept hearing that is it a sunset industry. Well, the sun has evidently yet to set. People are intimidated because they hear that maritime law is technical, but if you enjoy an intellectual challenge and see the practical aspects, I think shipping is the place to do it.
5. Is it difficult to succeed in what is perceived to be a male-dominated industry?
Success in maritime law has more to do with an individual's personality rather than gender. Our clients are very hard-nosed and knowledgeable businessmen so you cannot pull wool over their eyes. In that sense, you will need to be very thick-skinned, and the unpredictability of this industry applies to everyone.
6. You mentioned that one must be thick-skinned. What are some other traits required to be a good maritime lawyer?
One must be able to read around the subject and have an interest not just in law but also the wider industry. We value-add through marrying the law with what is happening practically. Junior lawyers sometimes do not get everything and that is alright because they lack experience. As they encounter similar problems over time, they will be better equipped to handle the situation.
On being thick-skinned, do not start crumbling if clients or seniors reprimand you. Shipping is fast-moving and time-sensitive thereby putting both clients and maritime lawyers under a lot of pressure. Unlike commercial litigation disputes, shipping issues such as ship delays occur at the present moment, and we have to act promptly. One must be thick-skinned not just in handling relationships but also in dealing with the problem.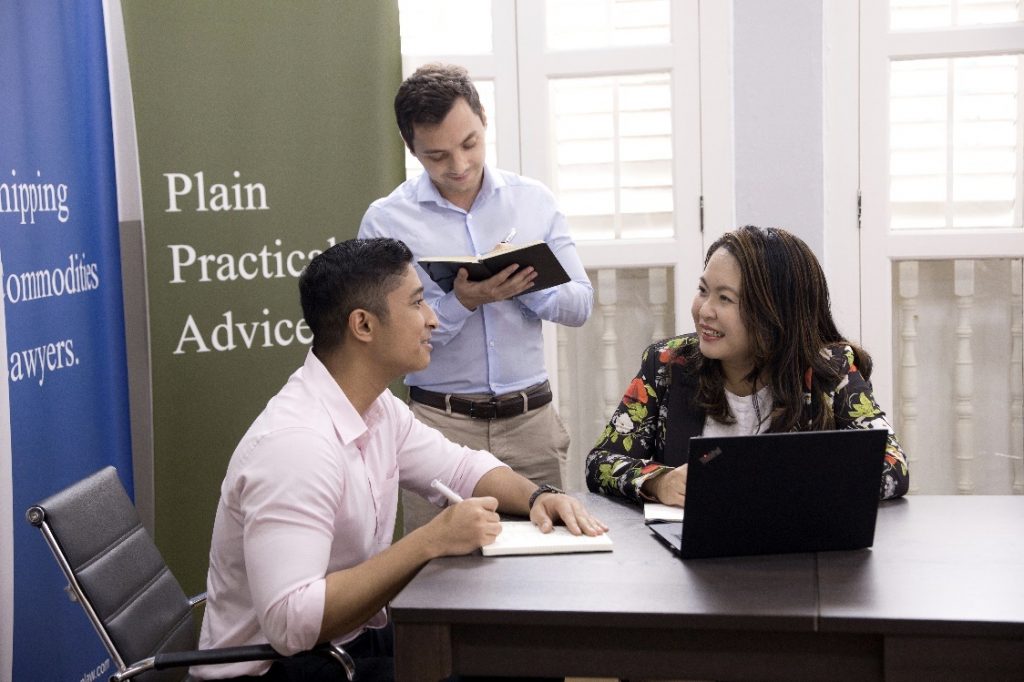 7. Could you provide an overview of your job scope?
Besides shipping, I do a lot of trading law-related work. Commodity trading in particular, is interlinked with shipping. If you know shipping well, you have a good foundation to practise as a commodity lawyer too.
Breaking down my daily tasks, I will usually begin the day with reading trade papers such as Lloyd's List and Tradewinds. This allows me to keep abreast of industry news and advice my clients on issues that may impact them. We typically do not have the luxury of time to respond and when clients pose a question, we are expected to understand their concerns and provide advice quickly, sometimes on the spot.
Throughout the day I will respond to emails and calls from my clients. Sometimes it is better to speak with clients on the phone as they will mention issues that are difficult to put into writing or if the situation is urgent. You must deal with issues at a much faster rate than previously.
Apart from handling legal issues, I am involved in HR, admin, and marketing plans. After work I will do my Master of Laws with King's College London and write articles.
8. On things moving at a faster rate, is this solely due to digitalisation or are there other contributing factors?
Expectations have changed because of digitalisation and compared to five years ago, clients expect a much faster response. I think these changes are in tandem with the evolving business environment.
9. Have these changes affected the nature of shipping cases that you deal with?
The issues that I encounter are similar. It is just that they happen at a faster pace, and we need to work smarter because clients seek commercially focused advice. This feeds back into why it is important to have an interest in the industry and keep up with the trends.
10. What is the most memorable case that you have encountered?
This happened when my client's vessel hit a jetty and the jetty owner filed a claim. We had to scramble and engage surveyors to assess the damage. At that point, there was a lot of information coming both from my client and the jetty owner. This experience was interesting because not only did I have to liaise with different experts to settle the claim, but I also learnt about jetty construction.
In such situations, we must bring both parties together as going to litigation or arbitration is not always in our client's best interests. Such procedures expend large amount of cost and effort that could be better allocated towards revenue-generating activities. Additionally, such actions may sour business relationships.
11. Young lawyers are often worried about getting pigeonholed, is it difficult for them to pivot from maritime law to other areas?
I think this concern applies to other specialised fields such as construction too. Students may not know which area they wish to specialise in, and it is fair for them to experience many things at that age. As a maritime lawyer, you learn varied skills that are transferrable into other practice areas. In fact, a huge proportion of major contractual and legal principles arise from shipping cases and one can always pivot into commercial litigation. However, I will be surprised if people lose interest in maritime law.
12. Could you share more on your role as advisor to the Centre for Maritime Law?
In maritime law cases published by Singapore and English courts, there is a lot of commercial reality observed. The Centre seeks to promote the understanding within students that maritime is a lively area of law. However, with Covid-19, we have not been able to hold as many events in school. I enjoy speaking with the students and I always find in-person meetings much more effective for such outreach efforts.
14. How would you describe the maritime industry in a word?
Exciting. It encompasses a wide spectrum of activities and there are new opportunities sprouting up that are in sync with what other industries are doing. You can work in an array of organisations, not just law firms but also insurers, the International Maritime Organisation, and governmental organisations. The possibilities are endless and that, to me, is exciting.
13. What are some opportunities that these young lawyers can look forward to?
Maritime law has developed significantly and is extremely vibrant. ESG efforts such as sustainability, decarbonisation and green shipping are fresh areas that have opened in recent years. If you have an interest in environmental issues, this aspect of maritime law will appeal to you. Digitalisation is another growing area that youths are interested in.
Old school shipping lawyers like myself must be familiar with these new trends that the younger students will be very familiar with. Besides these trends, I think it is also important to be familiar with trading since everything is connected. Maritime law extends beyond ships and cargoes – it is part of a larger supply chain. The international aspect also allows lawyers to work in many jurisdictions beyond Singapore.
Continue Reading
Attracting, engaging, and growing talent is at the heart of the Singapore Maritime Foundation's mission of developing a healthy maritime workforce. As the industry prepares the way for digitalisation and sustainability, among many other upcoming trends, the skills of maritime talent have to keep pace with these changes. It is apt that the theme for…
Fuelling the Transition Towards Clean Energy How can nuclear energy alongside other low carbon sources help your country or region to achieve their net zero targets? This was the question posed by the International Atomic Energy Agency (IAEA) at the 2021 Net Zero Challenge to young students and professionals from a variety of energy-related sectors….
As maritime evolves to embrace digital transformation and sustainability amid a global environment that is becoming more complex, talent remains key to its growth.  On the final day of Sea Asia 2021, SMF Board Member and Director of MPartners Lee Keng Mun moderated a session comprising panellists Mark Charman, CEO and Founder of Faststream Recruitment…