Singapore's journey from a port city to a Global Hub Port and leading International Maritime Centre (IMC) has not been an easy one. In this article, we hear from Mr. Chua Chye Poh, Founder and Chief Executive Officer (CEO) of ShipsFocus Group, and Prof. Lee Loo Hay, Director of the Centre for Maritime Studies (CMS) at the National University of Singapore (NUS), as they discuss our nation's maritime history, its growth over the decades, and what lies beyond the horizon.
When Singapore gained full independence in 1965, our nation's former leaders had much to consider in developing a young nation – from managing internal challenges to navigating competition from the region. Singapore needed to build up its economy to ensure its population had access to jobs, and that its workforce was skilled to take on roles in an evolving economic landscape.
"Bold decisions had to be made and assiduous planning undertaken, if Singapore were to survive as a separate political entity in a region that was difficult and, at times, threatening," said Prof. Lee Loo Hay, Director of the Centre for Maritime Studies (CMS) at the National University of Singapore (NUS).
To ensure the nation's survival in the region, the leaders focused on an ambitious industrialisation programme that was accompanied by the growth of the port. Through leveraging the nation's competitive edge – its favourable geographical location at the crossroads of important trade lines – and adopting a pro-business, pro-foreign investment, export-oriented economy policy, Singapore gradually achieved economic prosperity.
Over the years, the little red dot expanded its maritime space through bold policies and establishing strong commercial and shipping linkages with other ports.
"Singapore's proactive policy on port management saw the development of a container terminal at Tanjong Pagar in 1972," said Prof. Lee. "At that time, it was a controversial but bold move as the demand for container shipping was uncertain. Eventually, we became the first port in Southeast Asia to accommodate a third-generation container vessel."
It is widely known that the history of Singapore is synonymous with the history of its ports. The transformation of Singapore from a small regional port to one of the busiest ports in the world, that is connected to 600 ports in over 120 countries, was not only made possible by its location, but also the bold and clear vision of its leaders. As the late Mr. Lee Kuan Yew, first Prime Minister of Singapore, had once said, "Singapore's raison d'etre was its port".
"Historically, Singapore has served well as a port," said Mr. Chua Chye Poh, Founder and Chief Executive Officer (CEO) of ShipsFocus Group. "What we are doing is to continuously enhance this strategic position that we are endowed with. What we need is foresight, courage and humility to build on what the previous generations have achieved."
Beyond A Global Hub Port
Today, the maritime industry is a key driver of Singapore's economy, contributing to about 7% of the nation's GDP. Singapore has grown beyond just a global hub port, it is also a leading International Maritime Centre (IMC) – a tightly-integrated ecosystem with dynamic business linkages and synergies, offering a wide range of maritime services such as finance, insurance, broking and surveying. Last year, the nation was recognised as the top leading maritime capital of the world for the fourth consecutive time.
"When we were number three or number two, we had a number one to emulate. Now, at the number one position, it gets more challenging to continually stay ahead of the curve," shared Mr. Chua. "Since we have succeeded, we must believe that others can also do so. It is important to maintain a crisis mindset as we continue to develop ourselves to be an effective hub and an efficient value-creating platform – it is a never-ending process of evolution and progress. Once we rest on our laurels, we will lose our top position, like all other top maritime centres before us."
To ensure that Singapore is constantly ahead of its competitors, capitalising on new technologies to drive productivity and efficiency, deepening maritime Research and Development (R&D) capabilities, as well as investing in talent are some of the key strategies outlined in the Sea Transport Industry Transformation Map.
For example, the Singapore Maritime Institute (SMI), with the support of the Maritime and Port Authority of Singapore (MPA), has established four Centres Of Excellence (COEs) with the Institutes of Higher Learning (IHLs) in the Modelling and Simulation area for the Next Generation Ports, Maritime Energy and Sustainable Development, Maritime Safety and Maritime Autonomous Surface Ships (MASS).
"CMS seeks to be a leading centre for maritime research committed to adding value to the local, regional, and global maritime community," shared Prof. Lee. "The Centre of Excellence in Modelling and Simulation for Next Generation Ports (C4NGP) was jointly established by SMI and NUS in 2018, to help the port sector develop innovative capabilities and enhance their global competitiveness."
In addition, the maritime industry has also begun its digital shift in recent years, which is now accelerated by the COVID-19 pandemic.
"Benefits to jumping on the digitalisation bandwagon include increased efficiency, unprecedented visibility, enhanced service stickiness, attraction and retention of young talents as well as a data repository to inform future projects," Mr. Chua said.
To support the digital shift, a future-ready talent pool is critical. The maritime industry needs to constantly attract young talent with relevant skills into the industry while retaining and upskilling or reskilling the existing workforce.
"CMS and the Department of Industrial Systems Engineering and Management (ISEM) will be launching the Masters of Science (Maritime Technology and Management) (MSc, (MTM)) next academic year," shared Prof. Lee. "The programme seeks to train and equip graduates with skillsets to enable next-generation port capabilities. They will support Singapore's move towards digitalisation and innovation."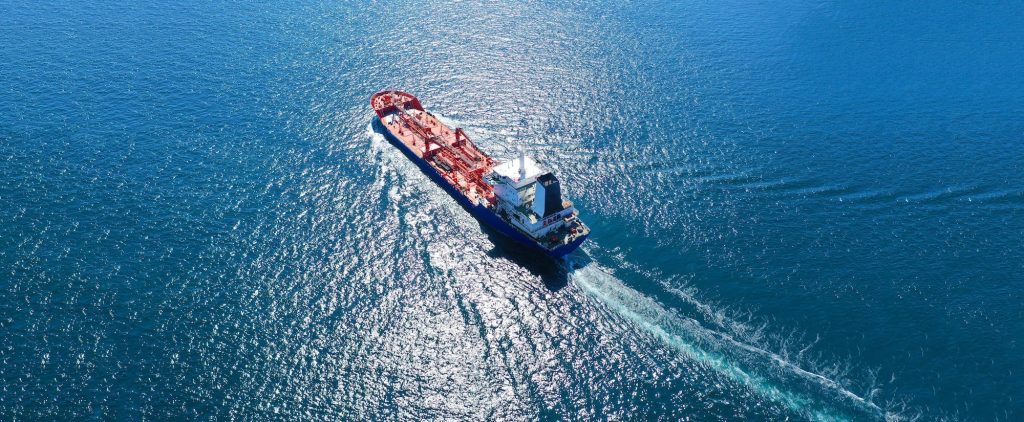 Navigating A World Of Disruption
Will the maritime industry continue to play a significant role in global trade in the future? Mr. Chua notes that this depends on how well it performs under disruption.
"Many would think that an industry that transports more than 80% of global trade would still remain relevant. In a traditional world, industries are segregated and flows are manual. Now, we are in a highly-connected digital world with automated and seamless flows. The maritime industry intersects with industries such as logistics, trade and insurance, which are undergoing their respective transformation journeys that will open opportunities to move into adjacent industries. We are seeing e-commerce platforms like Alibaba and Amazon encroaching into the freight forwarding and the container space, and Maersk's (container) inroad into logistics with Tradelens. Coming from the maritime industry, naturally, I would want to see us win this race."
As Singapore strives to maintain its position as a top maritime centre and remain one step ahead of others, it faces increasing competition from neighbouring ports as they expand their facilities and the threat of being bypassed due to alternative shipping routes. The recent pandemic has also brought about unforeseen global challenges that impacted economies and disrupted supply chains.
Yet amid the global pandemic, the maritime industry remained critical in transporting essential goods such as food and medical supplies to countries worldwide.
"While the pandemic has given the industry its deserving recognition for the crucial role it plays in global trade, such resultant awareness is expected to exert pressure on the industry to provide more transparency on efforts such as decarbonisation," Mr. Chua pointed out.
"Given the growing concerns over climate change, emphasis would be placed on reducing greenhouse gas (GHG) emissions," Prof. Lee added.
While the pandemic is still running its course, the maritime industry has been working to overcome the challenges posed, and at the same time, tackle decarbonisation – an ongoing commitment that began even before COVID-19. In fact, an International Advisory Panel on Maritime Decarbonisation (IAP) has been established by the Singapore Maritime Foundation (SMF) and MPA earlier this year, to discuss pathways to maritime decarbonisation, policies that could help accelerate the transition and proposed actions to be taken by Singapore.
Steering Through Unchartered Waters
Looking ahead, it is crucial for Singapore to capitalise on opportunities such as those presented by technology and harness its benefits to prolong its success and navigate future crises.
"COVID-19 is one crisis, but it will not be the last," Prof. Lee highlighted. "A learning point from this is for the maritime community to deploy big data analytics, AI and autonomous technology to enhance the visibility and resilience of the supply chain, especially in transporting food and medical supplies, as well as ensuring the safety of seafarers onboard."
How Singapore got to where it is today has not been without challenges. Though the journey ahead in the new normal may have hurdles, our nation is armoured with the lessons learned from past experiences. Together with the guidance of exceptional leaders and the continued collaborative efforts amongst members of the maritime community, the industry is set to continue flourishing in the years to come.
Continue Reading
6 October 2020 Mr Punit Oza, Executive Director and Registrar of Singapore Chamber of Maritime Arbitration (SCMA), shares with SMF six ways to resolve maritime disputes smartly and effectively, from paying attention to the dispute resolution clause in the contract, even before there is a dispute, to using SCMA to resolve those disputes. Let me…
19 August 2020 The MaritimeONE Scholarship Programme, administered by the Singapore Maritime Foundation (SMF) since 2007, is an industry-backed initiative which aims to nurture talent for the maritime industry by empowering scholars to act on excellent opportunities for personal and professional growth. It is heartwarming to see that the collaborative efforts of the maritime community…
22 July 2020 Is HR essential? What role do HR professionals play in times of crisis? The Circle of HR InnOvators (CHRO) network was launched by the Maritime and Port Authority of Singapore (MPA) and the Singapore Maritime Foundation (SMF), as a platform for HR professionals to share best practices and insights into how HR…